(removed / transferred from hanisnina.com)
The minute I found out about this book, it was after I read about
a man's experience when he was in North Korea
, as part of tourism. As I am at home in Malaysia now, I am not that able to travel on my own - I mean overseas. I would love to cover the Southeast Asia or Asia itself - but my responsibilities towards my family is more important than my desire.
So, reading other's stories is another way to explore. :)
I was shocked, yet encouraged to check on tourism in North Korea - when I found out Malaysian citizens with normal passports can visit North Korea (its specific tourism routes) without a visa for a month! Malaysia is the only country come out with this advantage followed by Singapore.
And so....
Back to the book.
It was written by Hyeonseo Lee, a true story based of her own experience and others told by trusted person ( I bet, her family). The girl with seven names; in which
Hyeonseo Lee
is her final & current name.
You can read a part of the book
here.
She was not planning to escape North Korea forever at all, neither for freedom nor money nor food. She came from a high social ranking family, with her father's job as military officers and her mother's great skills in bribery. The family had good songbun, a caste system in North Korea - that made their place in society secured. :)
Read the book, and you will learn what people in North Korea do generally to keep good songbun.
She mentioned a lot about her extended family, with many uncles & aunts - whom some lived in other places in North Korea. Due to her father's job, her family was able to move to different cities.
I came to learn about two most important persons in North Korea, which is an atheist-communist country. These guys are saluted (till this moment). Great Leader Kim Il-sung and his son, Dear Leader Kim Jong-il. Their portraits are everywhere in NK, bowed by people. Even, in every houses in NK, they need to hang these guys' portraits high up and make sure to be dustless!
Photograph: Hyeonseo Lee
Like other teenagers, Hyeonseo Lee had her rebellious sides and curiosity. Just a month before turning 18, she made a decision to cross Yalu river (picture above) to Changbai, China then visit her father's family in Shenyang, China. She mentioned this river was just 10 meters wide and not that deep - good enough for people fleeing out. With plans to come back home after 5 days, however......
So why did I get the feeling that my life was about to change for ever? - Hyeonseo Lee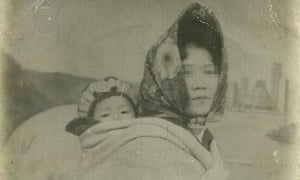 'She had been the rock of our lives': Hyeonseo Lee's mother carries her, aged three, on her back || Photograph: Hyeonseo Lee
Life in a foreign land is not easy for a 17-year old girl. How she survived in China really inspired me to be grateful with what I have now. She had no intention at first to get to South Korea, as she was already 'brainwashed' that the south is the enemy. Read the book to know how and what changed her mind to get asylum in South Korea. :)
The irony. In Shenyang, I'd had to convince suspicious police that I was Chinese, not North Korean. Here, I was trying to do the opposite. - Hyeonseo Lee
The moment she planned to sneak out her mother out of Hyesan, her hometown, was another tragic story. T_T Really, I can't imagine myself being in her position, I might kill myself if I don't have strong faith.
And now, she is living together with her mother and brother. What happened to his father? And why his brother came along? Oh yea, she was in love with a guy, who understand her and willing to accept everything. But, that guy is American! Since North Korean people are taught to be anti-US, even they call
American b****** - miguk nom
- so, how can her mother & brother accept him?
---------------------
Her story inspired me on how she managed to get through all those life changing events, even with life-threatening challenges. She taught me on how important family is when she was finally able to reunite with her family. And I learned how North Korea seems to be look like, politically and socially. So many propaganda there, established in its people's mind. And I am glad I had the chance to see the world, without being blocked by anyone.
(removed / transferred from hanisnina.com)
Baitul Hanis, Perak, Malaysia
150820

S.K.Neumanna, HK, Czech
160331